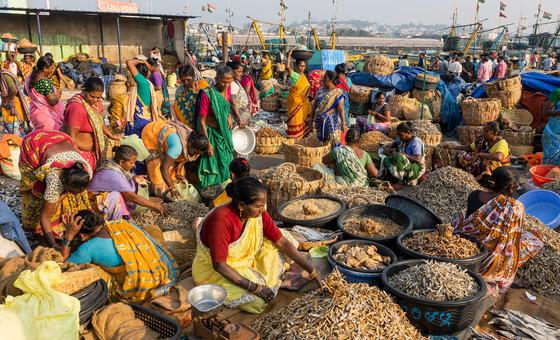 Speaking at the UN Food Systems Summit +2 Stocktaking Moment, in Rome, Mr. Guterres said that in a world of abundance, "it is unfortunate that people continue to suffer and die of hunger."
Broken system
"Global food systems are broken – and billions of people are paying the price."
According to UN estimates, more than 780 million people experience hunger, almost one-third of all food produced worldwide is lost or wasted and almost three billion people cannot afford healthy foods.
Developing countries face additional challenges, as limited resources and debt burdens prevent them from investing fully in food systems capable of providing nutritious food across the social spectrum.
Unsustainable food production, packaging and consumption also contribute to the climate crisis, accounting for a third of all greenhouse gas (GHG) emissions, 70 percent of the world's freshwater use, and driving the loss of biodiversity.
The collapse of the grain deal hit the weak
The recent end of Russia's Black Sea Initiative has further exacerbated the situation, Mr. Guterres said.
It allows the export of millions of metric tons of food from Ukrainian ports, and together with the parallel UN agreement with Russia on the export of food and fertilizer, is important for global food security and price stability.
"At the end of the Black Sea Initiative, the weakest will pay the highest price," he added, stressing that Russia and Ukraine are vital to global food security, urging Moscow to reverse course.
The UN chief said he remains committed to enabling unrestricted access to world markets for food and fertilizers from both countries, "and to provide the food security that every person deserves."
Three important areas for action
In his speech, the UN chief cited three key areas for action, starting with "huge" investments in sustainable food systems.
"Hungry food investment systems mean, literally, hungry people," he said, calling on governments to respond to the UN's call for an SDG Stimulus, worth at least $500 billion annually to support long-term funding to all countries in need.
Second, Mr. Guterres called on governments and businesses to work together and "put people at the bottom" in building food systems.
This includes exploring new ways to increase the availability of fresh, healthy food for all individuals, keeping food markets open, and removing trade barriers and export restrictions, he said.
Environmental sustainability
With food systems playing a key role in reducing carbon emissions and limiting global warming to 1.5 degrees Celsius, the Secretary-General called for food systems to reduce the carbon footprint of food processing, packaging, and transportation.
The use of new technologies to reduce the unsustainable use of land, water, and other resources in the production of food and agriculture is essential, he said, urging "stronger and faster action" to solve the climate crisis and commit to achieving net-zero emissions by 2040 for developed countries and 2050 for developing economies.
Assess progress
Also speaking at the opening, Qu Dongyu, Director-General of the UN Food and Agriculture Organization (FAO), emphasized the importance of evaluating the progress of the transformation of agrifood systems towards the achievement of the 17 SDGs, agreed to by all countries of the world in 2015.
He noted the progress in identifying the solutions that agrifood systems can provide for better production, better nutrition, a better environment and a better life, including more sustainable farming, efficient water management, responsible packaging, reforestation and reduction of food waste.
Mr. Qu added that this depends on changing global agrifood systems to become more efficient, inclusive, sustainable, and sustainable.
"In the face of growing uncertainty and many crises, we urgently need to make this change to fulfill the high expectations we have from our agrifood systems," he said.
The Summit
From 24 to 26 July, the UN Food Systems Summit +2 Stocktaking Moment will gather more than 2,000 participants from more than 160 countries to review the progress of the commitments made at the first Food Systems Summit in 2021, and recognize successes, as well as persistent bottlenecks while refocusing priorities.
It includes a series of high-level events, dialogues and side events related to the transformation of agrifood systems on topics such as food waste, climate change, healthy diets, partnerships, science and technology, indigenous knowledge, and transportation.